Remember when print was fun? Book covers came in different designs and finishes, from metal and plastic, to soft or hard. Magazines provided freebies like full size posters and hair accessories. Today, books and magazines have streamlined in order to stay afloat. And whilst technological advancements have improved our lives, they have failed to advance and elevate the print experience. Instead our smart devices have been rapidly replacing paper. Interestingly, studies show that people retain more information when reading in the traditional way, rather than from a screen.
​
What's the solution? The implementation of Augmented Reality (AR) paired with traditional print materials can push this media into the 21st Century. AR opens a whole new world of added content, which my research shows is even better for information retention than traditional means alone.
an augmented print experience
What is AR? AR is defined as: a technology that superimposes a computer-generated image on a user's view of the real world, thus providing a composite view. Simply put, you would scan an image with your smart device's camera and see animated or video content connected to the scanned image. There are many forms of AR like 3D, face filters, video, 2D images, and fully immersive AR environments.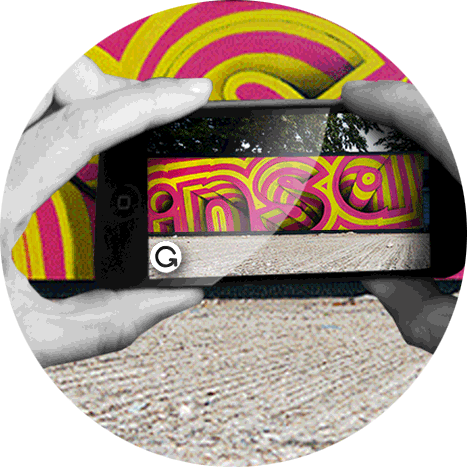 Who is using AR? AR is widely used in the medical field for educational purposes. In retail, the fashion industry implements this technology to sell products and furniture companies such as Ikea, allow users to superimpose furnishings within rooms. Finally, The New Yorker magazine augmented an anniversary cover once, but overall Augmented Reality is underused.
How can AR be used? There are endless uses for this technology in multiple fields and amongst a wide demographic.
Creating Augmented Reality
Download the ZappAR app onto your smart device and scan any page with the circled lightning logo. Please be advised that some of these pages use sound, so turn up your speakers!
​
There are two pages marked 3D. To view these experiences properly, you do need to have a pair of Anaglyph and ChromaDepth glasses.
​
​
How is AR made? Augmented Reality is a complex language which needs to be coded in order to create a custom experience, partnered with a custom app for various operating systems. However there are several companies who offer AR services for non-coders. These services usually include the ability to design a custom app and logo, and to run it on both the Apple and Android platforms, thus making the experiences seamless—by using imagery or gps as triggers to instantly display the augmented state.
How was my book made? I used ZapWorks (a company which allowed for code and pricing flexibility). Most other options were either prohibitively expensive and meant for large companies, or didn't offer the coding customization and/or were code only. ZapWorks provides several different software to create endless AR experiences like, ZapWorks Studio, Universal AR and Designer. I was able to use both plug-and-play methods and code customization to generate specific augmented states. I used the free experimental ZapWorks license which comes with ZapWorks watermarks, but purchasing a basic license would negate that, if needed.